You Are About To Unleash The Amazing Power Of Twitter As A Dating Site...For Free!
Download @ScotMcKay's FREE 80-page e-book
Twiduction: How To Meet Women On Twitter
INSTANTLY using the form below and discover...
Ingenious (but laughably simple) ways to meet women on Twitter...starting RIGHT NOW

How to rack up a massive following and achieve all-conquering social proof on Twitter in record time

Top-secret steps to making every available advantage work in your favor...even by using other websites to maximum effect

Ninja tactics for using Twitter that will make you ridiculously better at meeting women on other dating sites (and apps like Tinder)

Foolproof, step-by-step ways to approach women on Twitter, build irresistible attraction, move the interaction offline and actually meet face-to-face

Powerful, &quotdone for you" steps to creating a Twitter profile that captures her attention at a primal level and separates you from the herd

And you'll get a FREE subscription to Scot McKay's unique dating newsletter, packed with real-world tips for ultimate success with women.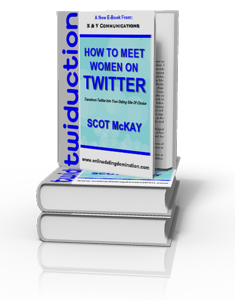 Log in with your valid e-mail address below and click
the "Instant Download" button to
Download The E-Book Instantly For Free.
Please be sure to check your e-mail box for a
confirmation request to receive the newsletter.
©2005-2015 X & Y Communications LLC, All Rights Reserved.